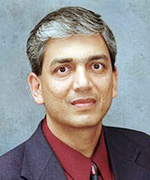 Biography
Dr. Ashwin Ram is an Adjunct Associate Professor in the Interactive and Intelligent Computing division of the College of Computing of the Georgia Institute of Technology, an Associate Professor of Cognitive Science, and an Adjunct Professor in the School of Psychology. He is the Director of Georgia Tech's Cognitive Computing Lab and founder of Enkia Corporation, a Georgia Tech spinoff that specializes in commercial artificial intelligence software.
Dr. Ram received his B.Tech. in Electrical Engineering from the Indian Institute of Technology, New Delhi, in 1982, and his M.S. in Computer Science from the University of Illinois at Urbana-Champaign in 1984. He received his Ph.D. degree from Yale University for his dissertation on "Question-Driven Understanding: An Integrated Theory of Story Understanding, Memory, and Learning" in 1989.
Dr. Ram's research interests lie in the areas of artificial intelligence and cognitive science, specifically machine learning, natural language processing, case-based reasoning, educational technology, and artificial intelligence applications. He has more than 90 research publications in these areas. He is a co-editor of a book on Goal-Driven Learning and a book on Understanding Language Understanding: Computational Models of Reading, both published by MIT Press.
Dr. Ram is a member of the Intelligent Systems and Artificial Intelligence groups, the Graphics, Visualization, and Usability Center, the Interactive Artificial Intelligence Lab, and the Mobile Robot Lab.
Dr. Ram's research is/has been supported by the National Science Foundation (NSF), the Defense Advanced Research Projects Agency (DARPA), the Advanced Research and Development Activity (ARDA), the Air Force Office of Sponsored Research (AFOSR), the Army Research Lab (ARL), the Office of Naval Research (ONR), the EduTech Institute, Digital Equipment Corporation (DEC), and Yamaha Motor Corporation.